This past weekend really felt like we were moving forward... finally.
On Saturday, we held a moving sale to get rid of all our junk and things we won't be able to fit in our new place. This ended up going really well (although if you would have asked me on Friday, it was the biggest mistake yet!). We had lots of traffic thanks to the church just down the street having a big yard sale, and we sold almost everything! We ended up making enough money to cover all the costs of the moving truck we will need when we move! We are really thankful.
On Saturday evening we moved all our patio furniture over to James' parents' house. It's so nice to have family that is willing to store our stuff for us! It is really a big help.
Then, on Sunday evening we drove up to Lindsay to get our new place! Because James had orientation on Monday, we thought it would be prudent to come up a night early rather than driving up in traffic on Monday morning. Thankfully our landlord was fine with this! We took some boxes of art and books and settled in for the night.
We also discovered that right across the road we have an awesome bike/walk/snowmobile trail: The
Victoria Rail Trail
. This is a 55-km trail that runs from right across the street in Lindsay all the way up to Kinmount. About 15 km down the trail is
Ken Reid Conservation Area
. Hopefully in the near future we can spend a day there enjoying the lake. We are really excited to discover everything this trail has to offer!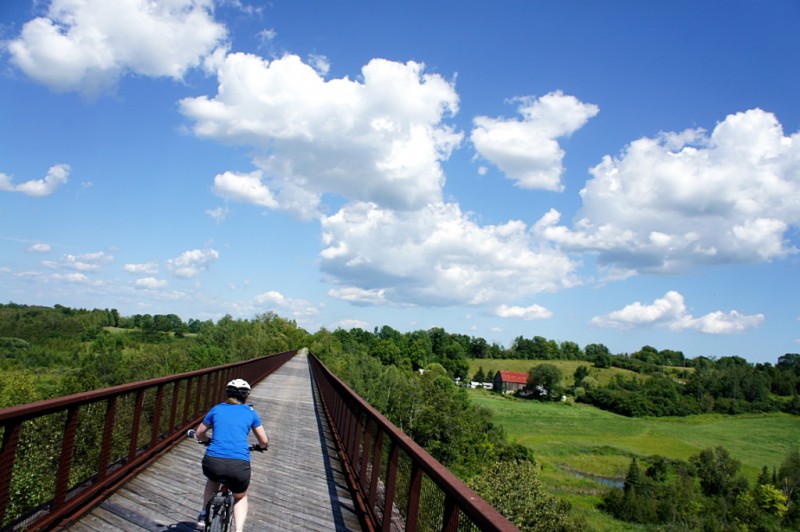 After a cool night (yes, cool! we are in a basement... it was wonderful!) sleeping in our new place, we got up to go about our business in our new town. James went to orientation and I proceeded to run a few errands. I picked up paint, went to the town offices to ask about garbage pickup, got a library card (can't live without that, obvi) and generally explored the town. It looks like it will be a pretty decent place to live after all.
Hopefully in the near future I will post some pictures of our new place. We will be moving our stuff up in less than two weeks! It all seems like it's coming so quickly. Please pray that all goes well and that our move is smooth.
And remember, there is always an open invitation to come visit!